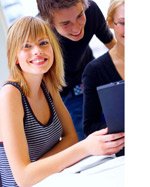 As part of Georgia's Joshua's Law requirement established in 2007,  teens must complete 32 hours of drivers education instruction in order to receive their first Class D license. Until recently, the only place they could receive this instruction was from private driving schools or high schools. However, that situation has changed, as Georgia teen drivers may now complete all 32 hours of their Joshua's Law course online.
The website where the Georgia drivers education course is offered is hosted by Driver Training Associates, Inc. Those interested can sign up for the Joshua's Law Course and read important information about the course on the DTA site.
If you are a Georgia resident under 17 years of age who is preparing to get a driver license, you will be required to show completion of this course. You must be at least 15 years, 6 months old to complete the Joshua's Law course online.
You will also be required to show proof that you have completed at least 40 hours of behind the wheel, supervised driving, including 6 hours at night. You must provide written verification by a parent or guardian that these requirements have been met.