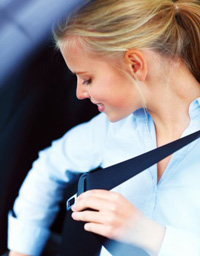 Starting September 1, 2010 Texas law requires that ALL passengers inside a motor vehicle be secured by a safety belt, regardless of the age or place  in the vehicle.  Currently, the law requires that only front seat passengers (other than children that fall under the child safety seat laws) be secured in safety belts.  In the interest of safety, legislators added the new stricter laws to help decrease the numbers of people who are killed or injured in motor vehicle crashes each year for not wearing their seatbelts. 
Another seat belt related law addition is focused on children.  Starting June 1, 2010 it is violation to operate a motor vehicle with a child who is younger than 8 years old (unless the child is taller than 4 feet 9 inches) without securing them in an approved child safety seat.  This law was modified from less than 5 years old and less than 36 inches tall.  This may seem like a big change, but  again the legislators feel that it is their job to protect the children of this state from being injured in vehicle crashes, and this change will ensure that more children are safely secured.
Sign up for Texas Seat Belt Course
Regardless of how you may feel about the role of government in our society, it is important to stay informed of the current laws so that you are not cited by authorities for a violation that could have been avoided.  These are just a couple of new changes for drivers.  I invite you to check out all of the new changes by visiting the Texas department of Transportation's website. 
If you get a ticket for a seat belt violation and the court authorizes the use of a state approved seat belt course, check out our course.
About Us:
Driver Training Associates, Inc. (DTA) is a defensive driving and traffic school course leader located in Sugar Land, TX.  DTA was started in 1977 as a classroom provider and now offers all of their courses in online formats as well.  The company is approved to offer Texas defensive driving, New York Defensive Driving, Florida traffic school, florida drivers license, advanced driver improvement courses.