In 2004, the Florida Department of Highway Safety and Motor Vehicles (or "DHSMV") created a new pilot program that allowed Florida high school students to take their road rules and road signs test on the Internet. Effective December 31st, 2010, this test has ended. All students must now take their test at the driver license office.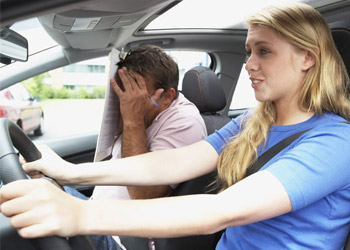 When the pilot program was created six years ago, DHSMV hoped that it would reduce long lines at local driver license offices.
By passing their test on the Internet, students could avoid taking the test in person, although they would still have to travel to a driver license office and wait in line to take their behind the wheel driving test, vision test, and submit paperwork to a driver license examiner.
In an effort to include security features in the driver license test, DHSMV restricted test providers to companies that offered online learner's permit courses. Students who signed up for their learner's permit course online could only take the online Class E driver license test through the same company. Students were required to submit the answers to security questions in order to gain access to the online driver license test. Students were not allowed to take a classroom learner's permit course and then take their driver license test online because this was prohibited by DHSMV.
The online test generally cost between $20 and $30 per attempt. Five companies were licensed to provide the online testing, one of which advertised its online test heavily in the Florida driver's handbook. The online test was extremely popular and has been taken by hundreds of thousands of Florida high school students.
In the summer of 2010, DHSMV officials notified test providers that they were discontinuing the program effective December 31st, 2010. Despite the inclusion of additional security features in the tests, such as requiring that parents sign an affidavit form stating their teen did not receive assistance, DHSMV determined that there was too much potential for fraud with the online version of the Class E exam.
According to DHSMV, this decision was prompted by retests that had been conducted over the course of the pilot. In these retests, the scores of online students were compared with the scores of students who originally took their test at a local driver license office. When retested, online students failed a large percentage of the time as compared with students who originally tested at the driver license office.
Although the online Class E test is now history, Florida teens can still take their DHSMV required learner's permit course online. This four-hour course instructs teens in Florida traffic law, the dangers of driving after drinking or taking drugs, and defensive driving concepts.
Teens can sign up for the online drug and alcohol / learner's permit course at www.driverlicenseschool.com. They can also study the Florida driver's handbook to prepare for the road signs and road rules test that they must now take at a local driver license office.
Update: In the months that have passed since this blog post was posted, the Florida DHSMV has begun allowing private companies to once again offer the Florida driver license test online for first time drivers.  The test consists of both a road signs and road rules test, and the user must pass both to receive their learner's license.  Should a user fail to pass in 3 attempts they must take the test in person at their local driver license office.