Texas Seat Belt Course Online
Texas Seat Belt Course Details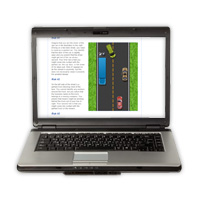 In partnership with I Drive Safely®, Driver Training Associates presents the 6-hour, Texas Education Agency approved seat belt course.
This course is available entirely on the Internet and can be used to fulfill your obligation to the court if you have received a ticket for a Texas seat belt violation.
About the Online Texas Seat Belt Course
Having a hard time finding a seat belt course in Texas? Why search for a classroom course when the online course offers convenience, ease of use, and so much more?
Here are some of the features of the Texas seat belt course.
Study at your own pace
No class to schedule
Short, easy chapters
Some videos, not all reading
100% online
FREE U.S. based customer support
Available 24 / 7
Log in and out unlimited times
Learn the best ways to protect yourself in a crash
After you finish the course, you will receive a completion certificate to turn in to the court. You can receive your certificate by standard mail or select express shipment for overnight or second day delivery.
Why Texas Drivers Should Wear Their Seat Belts
The National Highway Traffic Safety Administration (NHTSA) estimates that nearly 1,500 lives are saved in Texas each year when drivers wear their seat belts. Unfortunately, they also estimate that another 300 lives could be saved if ALL Texas drivers would wear their seat belts.
Clearly, seat belt use is one of the easiest things a driver or passenger can do to protect himself or herself in a crash. Using a safety belt is also still the best way to protect yourself, even if your car is equipped with airbags.
Want to learn more about seat belt safety? Sign up for the online seat belt course with DTA.